This crossover dog trainer shares her story.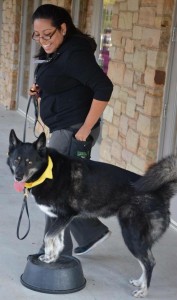 Ariana Rodriguez, ABCDT, has generously shared her story with us. She owns and operates Stellar Canines in Texas. She has been training for over 5 years and competes in AKC Obedience and Rally. 
What prompted you to start learning about positive reinforcement training?
Dog Scouts of America Texas Mini Camp with troop 119.
What changes did you see in your own dogs while you were crossing over?
Attitude. My boy was happier and eager during training sessions.
What is the most important thing people should know about positive reinforcement training?
Find a competent +R trainer. You will see results sooner than later.
What was the most difficult change for you?
To STOP jerking the leash and throw away my prong collar.
How did you overcome that difficulty?
I realized that I had to go all in if I wanted to see some concrete changes in my dog and with myself.
What's the rest of your story?
I was a traditional trainer, as a hobbyist and semi-professional for several years. Never thought twice about my training approach until we flopped during our first rally trial. Since then we've attended continued our education by attending many seminars and camps and have fully crossed over to more positive methods. Over 3yrs later, we've achieved titles and personal triumphs that I was told I could never accomplish without alpha rolling and popping my Husky.
We're thankful that Ariana shared her story. During the crossing over journey, it is so important to remember that you aren't alone. There are others out there who are going through the same thing and there are people you can reach out to for support and help.
Consider sharing your crossover journey. Click HERE to submit your story to the Crossover Trainer Blog.