Here is my first contribution to Cross Over Trainer.
Bev Maahs KPACTP
Working in a job, I was not getting job satisfaction from,  I decided it was time to do what I really wanted to do, and that was train dogs.  I did not have a dog at the time, my husband thought we should get a dog from the SPCA.  So, I went and had a look.
After a few visits, we chose Breezy.  I was researching Dog Training schools, in the area. And not certified yet: I applied to a school, but was hesitant, something told me to keep looking, and I did, that is when I met Lisbeth.
The first day I saw Breezy was July 20, 2010 and attended Orientation with LIsbeth Plant KPACTP, at Cowichan Canine, and even took Kurtis (my husband) with me.  Crash course for both of us! I knew this was what I wanted to do, and how I wanted to train, what a difference compared to how I used to train!  No choke chain! It was all marking the behavior and the dog learned, backed by science….awesome!
I had dogs before, including 2 German Shepherds, that I wished I had trained this way!
I knew then I was taking the Karen Pryor Academy Course, and enrolled in and my course work would start in December 2010. I could not use Breezy, as she was reactive to other dogs and people, so I borrowed one of Lisbeth's dogs a Bernese Mtn Dog. We rented at the time, and were allowed only one dog.  Which meant, I trained with her dog, Katie, when she was available, and sometimes brought her over for short visits.
From notes I kept at the time.
Breezy needed to get spayed and we had to wait a bit, so we brought her home on July 31, a friday, and a long weekend.
"Friday, we brought home Breezy, Kurtis picked her up, and I just got off work, she seemed good, took her for a walk, let her explore, we found she had a limp in front left leg, maybe a pull from straining against the leash.
She loves to bite your hands and feet and jeans, which is normal puppy behavior but seems hard to correct.  I have several bruises on my arm from her biting playfully, on it.
We have tried no, and closing her mouth, and time out in her crate, she does not seem to get any of the corrections, my poor, poor bruised arm."
August 7, 2010.
"Last few days I have been busy, Breezy has been diagnosed with Osteochondrosis, in her left shoulder.  She has had radiograph pictures and requires surgery.
I have been in contact with the manager at the SPCA and the lady in Victoria branch has agreed to pay for the surgery.  Which is a huge relief as I just adopted her!
I had Lisbeth come over for a behavior session, as I have been in over my head with her and her biting.  She lacks any biting inhibition and when she wants to play she bites my arms and feet even though I cry out in pain.
With Lisbeth's help and advice I should have the tools to curb this behavior.  She also noticed she is afraid to be caught, so I am reading a book recommended by Lisbeth to curb the behavior.  Click to Calm Healing by Emma Parson, Healing the Aggressive dog.
I was very impressed with her work with Breezy, and the improvement in her.  Kurtis can't wait to play the cup game with her…they are quite cute."
August 27, 2010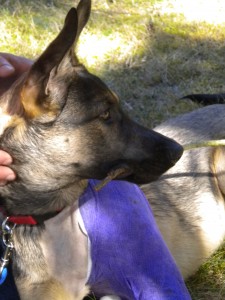 Home after her shoulder surgery first cast.
"I took Breezy to her surgery this morning, she was so scared she was shaking.  I told her it was okay, and she got weighed, 22.4 kg, up from her last visit a weekand a half ago.  They told me to call around 2 to see how she was.  I was on the verge of tears having to leave her, but she would be okay.  I called at 1:30 and they said they were stitching her up, and would keep her over night to give her meds and fluids, and to call tomorrow after 10. I think I am the one going through separation anxiety.  I kept myself busy all day trying not to think of it.  Every time I do, I shed some tears."
August 28, 2010
"We brought Breezy home, she came out well, she has a big purple cast on her leg.
She is whimpering, and every whimper makes me cry.  She was very hungry and ate her kibble and everything else, she could get.
We eventually gave her the sedative as she is totally not wanting to settle, and acts like being in pain is normal…I guess the pain she had before the operation is comparable?
Finally she is resting on the blanket in the living room.  I can rest a bit and write this as she rests and heals.  We got some antibiotics, metacam for the pain and a sedative for her, as they noticed she was very active after her surgery this morning.
I could not take all the whining, and Kurtis called the vet, apparently right on time, she is very vocal, and they expected us to call.  She is totally medicated, so we can't do anything more, Kurtis is sleeping on the floor by Breezy and she is quiet finally."
This is just the beginning! This was her second cast!  More on Breezy, and her journey next time.  As she has made incredible progress, and  is now 4 years old.  Her estimated age when we adopted her was 6 months old.
Before one year she was spayed and had shoulder surgery!
This is remarkable for a dog barely 1 year, she was taken by the SPCA from the conditions she was in, lived at the SPCA for 3 months, we adopted her.  Worked on her fears, and she had very extreme fears, in fact maybe had PTSD for dogs.  She thought everyone was an axe murderer.  She was spayed, before we brought her home, then found out she had a bad limp that turned out to need surgery.  A major surgery too!  It took her total 8 months to recover and be totally pain medication free.  She also was on a medication to help with her fears, a human antidepressant, prescribed by a vet so we could do behavior modification.  We did a lot of work on taking her to see new things and learn they were not going to kill her.
In 2012 we did a formal class, with Click to Calm protocol.  She also completed BAT, she did those with my husband.  We moved in 2011 to a city, and now she can walk and not freak out about everything.  Yes, it is management, it will be lifelong.  Was it worth all the effort?  Yes!  Did she teach me a lot, absolutely!
If you have a reactive dog, working with veterinarians is very important.  Not only is fearfulness, caused by a lack of  socialization or a dog with bad early experiences, but in many cases the result of pain or a medical condition.  Working with a trusted vet or vet behaviourist that endorses modern training methods to find out if the problem is medical is the first step and then treating it accordingly.  Whether it is with medication, behavior modification or both.  It is the first step to a helping your dog.