Have you taken the time to teach your dog to "leave it"? If not, here's your chance! [Just in time for the holidays! ;)]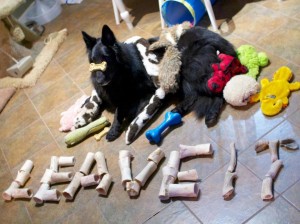 "Leave it" can be a lifesaving cue for your dog. It can prevent the dog from eating fractured, cooked chicken bones, moldy hamburger on the side of the road, or even swallowing a string. Many people believe you have to intimidate your dog for them to leave something alone, but if you take a few minutes to teach them the cue, there is no reason to yell at your dog for doing a typical doggy thing.
Check out this video I created for anyone who wants to work with their dog on this cue. It may come in handy this holiday season!
Contest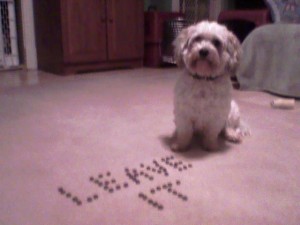 I have created a contest on Facebook for you all to upload pictures and vote on the best "Leave it" pictures! Get in on the fun! Winner will be chosen on December 25th and will receive a free 11×14 canvas print by Printcopia!
[fbshare url="http://www.thecrossovertrainer.com/can-your-dog-leave-it/" type="button"]
[pinterest count="horizontal"]
Special Thanks:
If you are not familiar with clicker training, please check out this video: What is Clicker Training?