This is my second post about my reflections from Shade Whitesel's Seminar: Play Your Way to Powerful Obedience. (Reflections from a Working Dog Seminar was the first post.) Using tug as a reinforcer during training is new to me. I had always casually asked my dog to sit or down before beginning play, but this seminar taught me how to use toy drive accurately to teach dogs.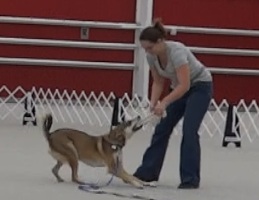 Play is a great way to build up speedy responses to commands. It increases the energy and effort that your dog puts into a behavior. But what happens if your dog isn't interested in playing hard?
Most dogs enjoy playing fetch, tug, or both! But they might not play the way we want. It is up to us to teach them how to play appropriately. Some of the things we want dogs to avoid doing are: running away with the ball, biting our hands, or disengaging with us because they don't find it fun.
Before we can teach them to play correctly, lets discuss ways to build up their drive to play. Yes, your dog can build up his desire to play, you just have to know how!
Here are some tips to build drive for tug:
 To get the dog to go after the tug toy, wiggle and drag the toy on the ground in the opposite direction of the dog to encourage the dog to chase it.
If your dog lets go of the toy, make it a little harder to get the toy next time.
Let the dog win at least half the time. (We all know how fun a game can be when we know we won't win!)
The last play of the game should be your dog winning the toy. Then trade a treat for the toy!
Put the toy up after each drive building session so you dog doesn't always have access to it – this builds the toy's value.
Here are some tips to get your dog to fetch:
Start out with two identical balls so that you don't have to repeatedly ask your dog to drop their favorite toy. Playing with two balls also keeps the dog engaged with you – you will always have something he wants.
Playing with a ball that has a rope attached to it will allow you to drag it on the ground in the opposite direction of the dog so that it can chase the ball. Then you can release it and let it roll away for the dog to chase.
At the beginning, let your dog see that you  have another ball, but eventually you will wait for your dog to drop what he has before you let him see the other ball.
Practice these techniques with your dog an let me know how it went! Hopefully this improves your playtime. Stay tuned for advice on how to use this new found drive to train your dog! (Be sure to sign up to receive notifications of future posts in the right hand column.)