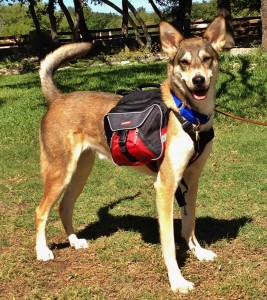 I believe that backpacks are a good way to drain extra energy out of your dog. They can also be helpful on hikes or camping trips. The use of backpacks is something I carry over with me from when I used to follow Cesar Millan's training style. Everyone seems to have a differing opinion about them and I agree that there are some things to consider before using one, but I also believe they can benefit some dogs and their people.
I'd like to first say that I don't use backpacks very often at all. At most, once or twice a month. Lately, I've been looking to find a nice backpack that doesn't sit in the middle of my dog's back. Many backpacks that I've seen sit too far back and put strain on the spine. I looked for one that would sit higher up on the dog without inhibiting the shoulder.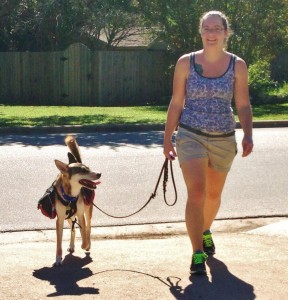 Another consideration should be the structure of the dog. I know my dog, Clark, a Cardigan Welsh Corgi will never wear a backpack because of his long back. He's also too young to wear one right now. Putting something on his back would strain his spine.
I found just the pack that fit my criteria. It has a lot of padding and fits nicely. Loker now carries a can of tomatoes on each side as well as poop bags. Having him wear a backpack makes it very convenient to pick up after him! I look forward to taking him on hikes where we will be able to use this backpack to carry food or other supplies.
If you want to get a backpack for your dog, go to http://www.ezydog.com/ and use this coupon code: EZYSUMMITBP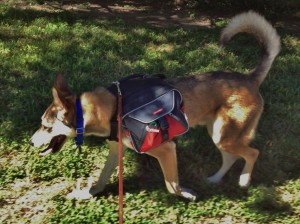 I was not compensated for this review, but I did receive a free backpack in exchange for the review.