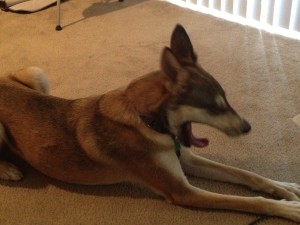 When I crossed over last year to positive training, one of the biggest "ah-ha!" moments I had was when I learned about calming signals. I wondered how I could have been so blind to them all along as they made perfect sense! See my first post "A Guide to Calming Signals." I had been a huge fan of the Dog Whisperer, Cesar Millan, until I learned about calming signals and began to observe them.
Calming signals communicate "I mean no harm" or "I'm uncomfortable or stressed." Dogs use them to communicate to each other but as humans, if we know and observe them, we can use them to judge how a certain dog may be feeling. For example, the dog in the first picture of this post is my dog, Loker. Yawning is a very common calming signal. In this picture I was trying to get a cute picture of him and he was feeling uncomfortable about the camera being pointed at him. This is what I refer to as a "stress yawn". It's not because he is tired, it's because I am staring at him and he doesn't like it.
Other calming signals may include any of the following:
yawning

looking away
lip licking
sniffing the ground
shaking off
Lets take a look at some other examples.
When you watch the Dog Whisperer's show (with the sound off), you can observe MANY dogs giving off these signals. Give it a try, you'll be surprised what you see!
Also, please check out these links: