I got into dog training in order to help dogs stay in their homes. Dog behavior has always fascinated me and I love teaching them new skills. However, when I leave the home of a client, I find myself thinking about how thrilled I am that the people caught on and had the "light bulb moment."
Must Love Dogs People
The most important thing in communication is hearing what isn't said. – Peter Drucker
In order to make a difference as a dog training, you have to be an effective observer and communicator. Observing the family structure helps see any inconsistencies between family members which you can tactfully address to further help their situation. A dog's behavior is not the result of one person in a family, but a result of the collective interactions with his family. Making sure everyone is on the same page will ensure behavior modification strategies are actually effective.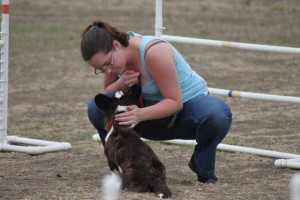 Without effective communication as a positive reinforcement based dog trainer, trainers are likely to come across as a "cookie pusher." A cookie pusher is a derogatory term used to describe trainers who give treats to dogs in training. Obviously, this is a very incorrect way to describe someone who uses the results of scientific research to change behaviors in animals. An effective communicator can convey the role that emotions play in an animal's behavior and how food effects those emotions which in turn effects behavior.
Who's Goals?
The fact is, the people are the ones who called for help and who are paying for the service. The priority should always be to help the people come back to a balanced, happy life or that dog doesn't stand a chance. When I go to a client's home for an appointment, my goal is to help the client and their dog achieve an understanding. I often repeat that all we are doing is opening up a line of communication between owner and dog. After, frustration comes from a lack of understanding and a lack of effective communication. Once both ends of the leash understand how their behavior effects the other, really harmony and balance begins to rebuild. There is nothing more satisfying to me than seeing the owners just as happy as the dogs at the end of a lesson!
Communication – the human connection – is the key to personal and career success. – Paul J. Meyer