As many of you found out recently, I added a big character to my little family. Clark is a Cardigan Welsh Corgi and ever since I got him in January, I've done my best to take him places and meet lots of people and dogs. One of the things many people forget about when they have a puppy is teaching the puppy that even though there are dogs around, it doesn't mean it's play or socialize time. Since Clark is going to be a show dog, this particular exercise has been a key focus in his training.
This is one of the reasons to take your puppy to an organized and structured puppy class. Puppies need to learn that they can focus, learn, and listen while in the presence of other dogs. It's a great way to prevent reactivity if you know what you are doing.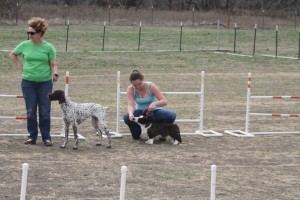 Clark likes to bark at other dogs when we first encounter them, but because of our practicing, he gets over that quickly. It was evident in our practice dog show group the other day. He barked at first sight, but once he started focusing on me, he moved on quickly. Puppy class definitely helped him learn that other dogs were not a threat and that he didn't have to pay any attention to them.
Here are some more pictures from our practice show: