If you follow my blog you know that there has been a special addition to the family recently. I want to give him a special introduction. His name is Clark (AKA Superman) the Cardigan Corgi! He is a confident little guy who has big dreams of competing in Rally or Obedience, becoming a therapy dog, and who nose what else! He began nose-work at 3.5 weeks of age and boy does he know how to use it! Whether it is meant for him or not, if he can reach it he'll get it!
He has been running the house since he got home. Loker is still pretty stressed out by his presence, but is adjusting. They are separated 95% of the time. When they are together they are allowed to play but we are also doing relax on the mat exercises together.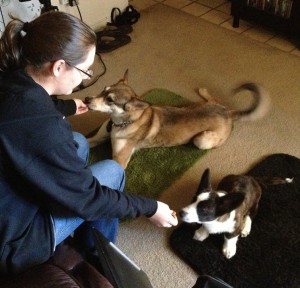 The other day they had the first real playtime together. Before it was just Loker avoiding the annoying pushy puppy, but he finally invited play and laid down (called self-handicapping) to play with the puppy at his level. It brought tears to my eyes and I believe it was his way of accepting the puppy as part of the family. I was lucky enough to catch it on video, see below:

They remain separated most of the time because I want Clark to bond and listen to us humans. We joined a puppy class by Karen Deeds of Deeds Canine Connection which has really helped Clark get over his need to bark at everything. (Better get used to is since he's a Corgi!) He was all over the platforms and buckets they had set up last time. He has yet to be phased by anything I put in front of him. In fact, I introduced crutches the other day and he didn't even look twice. Great news is he has gotten much more food motivated since I got him. We are always working on tug and fetch when we play with him as well. I am very much looking forward to working with him as he grow into a well rounded and sociable dog.